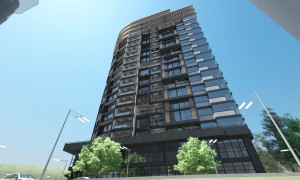 Construction company "Leader Group" represents multifunctional project "Luxury House" based under  European standards, which is commercial, office and residence complex in the prestigious district of the city centre, with unique views of Old Tbilisi and River Mtkvari.
Services of international standards are united in the modern-typed complex.
Concierge
Apartment cleaning service
Cleaning service of inner and outer areas
Own parking lot and car wash
24-hour security and video surveillance system
The uniqueness of the complex is defined by the location in the heart of the city, perfect infrastructure and at the same time clean and quite environment, which is ensured by the forest-park of 6000 sq2.
The project is distinguished by the immense location and views of various districts of Tbilisi, especially River Mtkvari and Old Tbilisi.
Multifunctional complex of Luxury House consists of 25260 m2.
The underground parking lot with a capacity of 106 cars.
Commercial space – 755 m2.
Office space – 755 m2.
Residential complex – 162 apartments.
The complex has three separate entrances. Each entrance is equipped with two modern, high-quality elevators.
The space of the apartments varies in between of 57 m2 and 173 m2.
During the process of construction the following building materials are used: aluminum windows, fundermax,  glass railings, metal blinds, various types of stone and aluminum.
The distinctiveness of the project is determined by the special design of exterior and interior.